I took the Wardrobe Refashion 4-month pledge.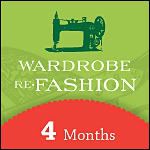 The Pledge
I,
April
,
pledge that I shall abstain from the purchase of "new" manufactured items of clothing, for the period of 2 / 4 / 6 months. I pledge that I shall refashion, renovate, recycle preloved items for myself with my own hands in fabric, yarn or other medium for the term of my contract. I pledge that I will share the love and post a photo of my refashioned, renovoted, recycled, crafted or created item of clothing on the Wardrobe Refashion blog, so that others may share the joy that thy thriftiness brings! Signed
April
.
You can read my first post
here!
This is perfect for me. Remember that
list
of goals?
By April 4th, 2010:
ONE
save up for and purchase a Canon Rebel
TWO sell an item on Etsy
THREE
turn all my fabric/stash into gold
FOUR
get in shape and get healthy
pointFIVE experiment with fashion!
Well. Taking the Wardrobe Refashion pledge will help me with goal
ONE
(because I won't be able to shop as much)
,
THREE
(because I can turn all my stash into new things!)
, and
pointFIVE
(because I can make crazy new things to wear!)
.
And onward.

My first outfit of 2010:

I made this dress yesterday for a NYE party.

It's made from a 2XL black teeshirt and a black velvet sequin-y teeshirt that used to be my mom's.


And the shoes:

[dress: made by me] [shoes: Patricia Field for Payless]


love and right triangles,

april