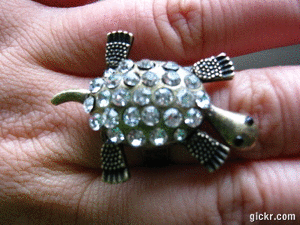 Meet Georgie Porgie, my turtle ring! This is quite possibly my favorite ring EVER. All its limbs move, AND it has a rhinestone shell, AND it was only 8 bucks at Target, AND I used to have a turtle ring whose limbs also moved (but didn't have a rhinestone shell) in middle school, but it broke after an unfortunate incident in which its shell was ripped off its back by an aggressive carpet. So I think this ring and I are meant to be. And my friend took the liberty of naming it Georgie Porgie.
I whipped this outfit together this morning real quick so I'd have something decent to wear on my last day in town! The skirt was made from a pair of thrifted shorts, and I made you a quick tutorial which is riiiiiiiight here!
(click to enlarge)
Making skirts from the crazy thrifted shorts I find at the Salvation Army definitely deserves a spot in my top ten favorite pasttimes. Sometimes they are awkwardly poofy in the front, but I don't really mind. And if you find knit shorts, then the poof doesn't happen :) And like I said, I've done this many a time: see examples
here
and
here
and
here
and
here
and
here
again.
The teeshirt is just an inside-out thrifted cotton tee with chopped up sleeves and a scoopier neckline.
Packing is still a work in progress. Sigh. Now bumping it up to turbo mode so I can say goodbye to my friends without massive anxiety attacks, and so I can get a decent night of sleep tonight. Leaving tomorrow morning! whee!
skirt, diy
tee, diy
belt, thrifted, $2?
shoes, Payless, $8
ring, Target, $8
love and right triangles,
april